Casual Wear for Men in 2023
Casual Wear for Men: Elevate Your Style Game Effortlessly
When it comes to fashion, every man desires to strike that perfect balance between comfort and style. Casual wear for men has undergone a remarkable transformation over the years, evolving from a simple t-shirt and jeans combination to a diverse range of stylish options that can effortlessly elevate your appearance. In this comprehensive guide, we explore the world of men's casual wear, from essential wardrobe pieces to styling tips that will help you stand out with confidence.
The Foundation of Your Wardrobe: Versatile T-Shirts
At the heart of any casual outfit lies the humble yet indispensable t-shirt. A high-quality, well-fitting t-shirt can serve as the foundation for countless ensembles. Opt for neutral colors such as white, black, and gray, as they can be easily paired with various bottoms and outerwear. Quality matters here – invest in t-shirts made from soft, breathable fabrics that offer both comfort and durability.
Denim Delights: The Timeless Jeans
No Casual Wear for Men's wardrobe is complete without a selection of well-fitted jeans. Jeans are a versatile staple that can be dressed up or down depending on the occasion. Dark-washed jeans are ideal for a more polished look, while distressed or faded jeans add a touch of ruggedness to your outfit. Experiment with different fits such as slim, straight, or relaxed, and remember to choose a pair that complements your body type.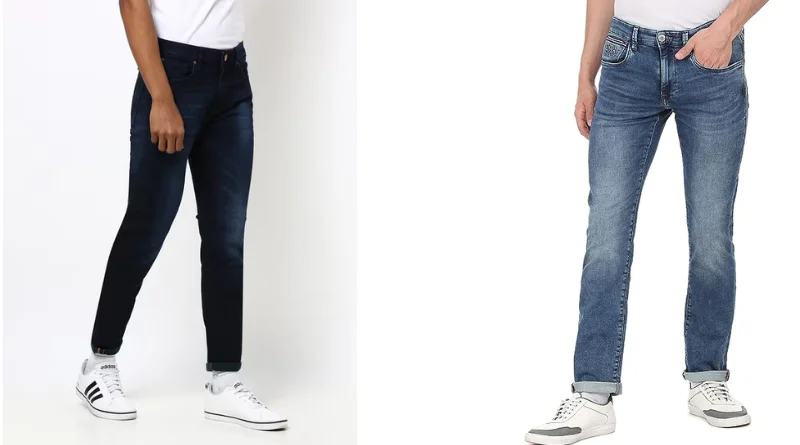 The Art of Layering: Stylish Outerwear
Layering is a key technique that can transform a basic outfit into a stylish ensemble. Incorporate outerwear pieces like lightweight jackets, hoodies, and sweaters to add depth and texture to your look. A classic denim jacket can instantly infuse your outfit with a touch of vintage charm, while a well-tailored bomber jacket exudes modern sophistication.
Chinos: A Step Up from Jeans
Chinos are the perfect alternative to jeans when you want to achieve a slightly dressier appearance while maintaining comfort. These versatile trousers come in a variety of colors and can be effortlessly paired with everything from t-shirts to dress shirts are an important section of casual wear for men. Roll up the cuffs for a relaxed vibe or combine them with a blazer for a smart-casual look that's suitable for a night out.
Footwear Finesse: Finding the Right Shoes
While talking about casual wear for men, selecting the right pair of shoes is essential to complete your casual ensemble. Sneakers are a go-to option that can be worn with almost any casual outfit, offering both comfort and style. For a slightly elevated look, consider investing in a pair of leather loafers or desert boots. These choices add a touch of sophistication while maintaining the laid-back charm of casual wear.
Accessorize With Confidence Is Counted Under Casual Wear For Men
Accessories are the finishing touches that can truly make your casual outfit shine. A well-chosen watch, a stylish belt, and even a simple bracelet can add personality and flair to your look. Remember, the key to successful accessorizing is moderation – opt for a few carefully selected pieces that complement your outfit without overwhelming it.
Styling Tips For Effortless Elegance Using Casual Wear For Men
Mix and Match: Experiment with combining different pieces from your wardrobe to create unique outfits.
Proportion Matters: Pay attention to proportions when layering – a bulky jacket over a loose sweater might not provide the most flattering look.
Tailoring Is King: Even casual wear looks better when it fits well. Invest in tailoring to ensure your clothes are perfectly fitted to your body.
Quality Over Quantity: Rather than having a closet full of clothes, focus on investing in a few high-quality pieces that will last and look great over time.
Confidence Is Key: No matter what you wear, the most important element of any outfit is your confidence.
Just for your idea some of the best casual wear brands in the USA, EU, and India have gained popularity for their stylish and comfortable offerings.
United States (USA)
Levi's: A true American classic, Levi's is renowned for its high-quality denim jeans and casual apparel. With a rich history dating back to the 1800s, Levi's has maintained its reputation for durable and fashionable clothing.
Nike: While primarily known for its athletic wear, Nike's casual clothing line is equally impressive. Their comfortable hoodies, joggers, and t-shirts seamlessly blend sporty aesthetics with everyday comfort.
Gap: Gap's casual wear focuses on providing timeless basics for men. Their versatile range includes well-fitted t-shirts, classic denim, and cozy sweaters.
Ralph Lauren: Offering a touch of sophistication to casual wear, Ralph Lauren's collection features polo shirts, chinos, and casual jackets that exude an effortlessly polished look.
European Union (EU)
Zara: Hailing from Spain, Zara is a fast-fashion brand known for its trendy and affordable casual wear. Their frequent releases ensure that you can stay up-to-date with the latest fashion trends.
H&M: Another European favorite, H&M offers a wide variety of casual clothing that combines style and affordability. Their diverse range ensures there's something for every taste.
Bershka: Part of the same parent company as Zara, Bershka caters to a younger audience with its urban-inspired casual wear, including graphic tees, denim, and edgy outerwear.
Scotch & Soda: This Dutch brand is celebrated for its unique designs and attention to detail. Their casual wear often features distinctive patterns, textures, and colors.
India's Brands Of Casual Wear For Men
Mufti: Mufti is known for its contemporary and trendy casual wear that resonates well with the Indian youth. Their collection includes fashionable denim, t-shirts, and shirts.
Allen Solly: A part of the Aditya Birla Group, Allen Solly offers a blend of formal and casual wear. Their casual range includes vibrant shirts, chinos, and polo t-shirts.
Jack & Jones: This international brand has made its mark in India with its stylish casual wear. Their jeans, t-shirts, and jackets cater to the urban fashion enthusiast.
Lifestyle Stores: While not a brand itself, Lifestyle Stores curates a selection of casual wear from various brands. It's a great place to explore a diverse range of options under one roof.
Remember that the popularity of brands can vary based on personal preferences, trends, and regional factors. It's always a good idea to explore different brands and find the ones that align with your style and comfort preferences.
Elevate Your Casual Style Today
In conclusion, casual wear for men has evolved into a realm of fashion that seamlessly blends comfort and style. By curating a wardrobe of versatile essentials, experimenting with layering and accessories, and following a few key styling tips, you can effortlessly elevate your casual style game. Remember, the key lies in finding pieces that reflect your personality and make you feel your best. If you're ready to take your casual wear to the next level, start by incorporating these tips and building a wardrobe that exudes confidence and elegance. Whether you're heading out for a casual weekend brunch or a relaxed evening with friends, your attire can truly set the tone for the occasion.