Fashionable Party Wear for Women
Unleashing Your Glamorous Diva
Ladies, it's time to sparkle and shine as we embark on an exciting fashion journey into the enchanting world of party wear for women. From stunning evening gowns to chic cocktail party wear dresses for womens and everything in between, we've got you covered with the latest trends and timeless classics that will make you the center of attention at any party. So, get ready to unleash your inner diva and let's dive into the magical realm of women's party wear.
1. Elegant Evening Gowns: Embrace Timeless Glamour
Imagine walking into a grand ballroom, dressed in an elegant evening gown that exudes timeless glamour. The flowing silhouette gracefully cascades to the floor, while intricate details like sequins, embroidery, and beading add a touch of luxury. Whether you opt for a classic A-line gown or a figure-hugging mermaid design, the evening gown is the epitome of sophistication and the perfect choice for black-tie events and formal celebrations.
2. Dazzling Sequin Dresses: Sparkle Like a Star
For those who want to steal the spotlight and make a lasting impression, dazzling sequin dresses are the ultimate show-stoppers. These glimmering ensembles catch the light, creating a mesmerizing dance of shimmer and shine as you move. Whether it's a New Year's Eve bash or a glamorous birthday party, sequin dresses are the go-to choice for adding a touch of sparkle to your party look.
3. Chic Cocktail Dresses: Effortless Elegance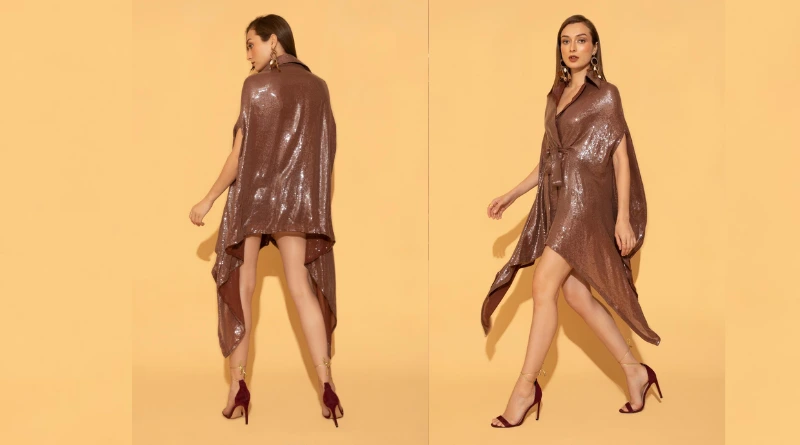 Cocktail parties call for chic cocktail dresses that effortlessly blend elegance with a touch of playfulness. These versatile dresses come in a variety of styles, from classic sheath designs to flirty fit-and-flare silhouettes. The knee-length wonders are perfect for semi-formal gatherings and upscale celebrations. The little black dress is a timeless choice, while bold prints and vibrant colors are sure to make a statement.
4. Stylish Jumpsuits: Embrace the Fashionable Edge
For the fashion-forward ladies who dare to be different, stylish jumpsuits are a modern and chic alternative to traditional dresses. The one-piece wonders come in various cuts and styles, from wide-leg to halter-neck designs. Embrace solid colors or bold prints to express your unique sense of style. Jumpsuits are not only fashionable but also incredibly comfortable, allowing you to dance the night away with ease.
5. Sassy Skater Dresses: Playful and Flirty
If you love twirling around the dance floor, sassy skater dresses are the perfect choice for you. These playful dresses feature a fitted bodice that flares out into an A-line skirt, creating a feminine and flattering silhouette. Skater dresses are versatile and can be dressed up or down, making them ideal for both formal and casual parties. Experiment with different fabrics and prints to find a skater dress that matches your personality.
6. Timeless Sarees: Embracing the Beauty of Tradition
For Indian celebrations or cultural events, nothing exudes elegance quite like the timeless saree. Draped gracefully, the six to nine yards of sheer beauty showcase the rich heritage of India's sartorial tradition. From opulent silk sarees to contemporary designer pieces, each saree is a work of art that tells a story of craftsmanship and artistry. Adorn yourself with statement jewelry and a beautifully crafted blouse to complete your ethereal look.
7. Playful Accessories: Elevate Your Party Style
No party ensemble is complete without the right accessories to elevate your style. Whether it's a statement necklace, a sparkling clutch, or bold earrings, accessories can transform your look from ordinary to extraordinary. Don't be afraid to experiment with different pieces to add a touch of glamour and personality to your party outfit.
In Conclusion: Embrace Your Fashionable Diva
As we come to the end of our glamorous journey through women's party wear, one thing is clear: fashion knows no boundaries, and every woman has the power to unleash her inner diva. Whether you choose the elegance of an evening party wear gown for women, the sparkle of sequins, or the playful charm of a skater dress, party wear is about expressing your unique style and exuding confidence. So, the next time you get ready to attend a party, embrace your fashionable diva and let your party wear be a reflection of your vibrant personality. Dance, laugh, and enjoy the magic of every celebration, knowing that you are the star of the show and the epitome of fashion-forward elegance. Cheers to the fashionable divas and the endless possibilities of party wear!