Urbanize Your Style: A Guide to Trendy Party Wear Tops for Women
Introduction:
When it comes to creating a stylish and eye-catching party ensemble, the right choice of clothing plays a pivotal role. Party wear tops for women have evolved significantly, offering a plethora of options to suit every taste and occasion. Whether you're heading to a glamorous cocktail party or a casual get-together with friends, the perfect party wear top can make you stand out effortlessly.
Party Wear Tops:
A Style Statement In the world of fashion, party wear tops have become synonymous with chic and versatility. From sequin-adorned stunners to elegant off-shoulder pieces, there's a myriad of options to choose from. The key lies in finding a top that not only complements your personal style but also exudes confidence as you rock the dance floor.
Sequins and Shimmers:
Sparkle the Night Away For those seeking a touch of glamour, sequined Party Wear Tops for Women is a must-consider option. These dazzling pieces catch the light and create a mesmerizing effect, making you the center of attention. Choose from classic silver and gold sequins or explore bold shades like deep blue and rich burgundy for a show-stopping look.
Off-Shoulder Tops Elegance:
Timeless Appeal The allure of off-shoulder party wear tops is undeniable. They effortlessly combine elegance with a hint of playfulness, allowing you to showcase your collarbones and shoulders in a sophisticated manner. Pair an off-shoulder top with slim-fit trousers or a flared skirt for a well-balanced ensemble that exudes confidence.
Peplum Perfect:
Flirty and Fun Peplum tops are a fantastic choice as Party Wear Tops for Women for those who want to add a touch of femininity to their party outfit. The cinched waist and flared lower half create a flattering silhouette that's both flirty and fun. Opt for vibrant colors like coral and teal to infuse energy into your look, or go for classic black for an understated yet chic appeal.
One-Shoulder Sensation:
Contemporary Charm For a modern and edgy vibe, consider a one-shoulder party wear top. This asymmetric style is both intriguing and stylish, allowing you to showcase your shoulder while maintaining an air of sophistication. Experiment with bold patterns and prints to make a statement, or choose a monochromatic piece for a minimalist approach.
Lace and Sheer:
Delicate Romance Lace and sheer fabrics bring an element of delicate romance to party wear tops. These materials offer a subtle glimpse of skin while adding an ethereal touch to your outfit. Whether it's an all-lace top or a sheer panel incorporated into the design, these choices ooze elegance and refinement.
Wrap It Up: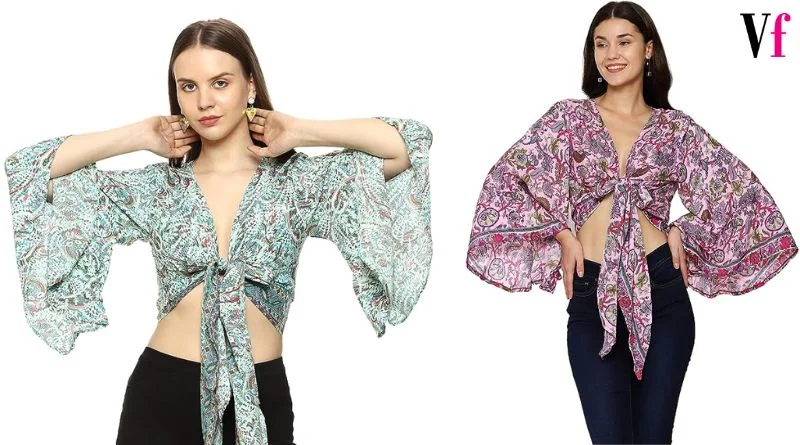 Flattering and Versatile Wrap-style Party Wear Tops for Women are celebrated for their flattering fit and versatility. The cinched waist creates an hourglass silhouette, and you can easily adjust the wrap to your comfort level. From solid hues to playful prints, wrap tops offer endless styling possibilities for various occasions.
Conclusion:
Steal the Show with Party Wear Tops As you prepare to dazzle at your next social event, keep in mind the incredible array of Party Wear Tops for Women available. Whether you're drawn to sequins, off-shoulder elegance, peplum charm, one-shoulder allure, lace, and sheer romance, or the flattering wrap style, your choice of the top can make a lasting impression. Embrace your individuality and experiment with different styles to create an ensemble that reflects your unique personality and leaves you feeling confident and fabulous all night long. Elevate your style with the perfect Party Wear Tops for Women and become the life of the party!
FAQs for your better understanding
1. Q: What kind of tops are trending?
1. A: Currently, trendy tops include sequined and shimmering pieces for a touch of glamour, off-shoulder styles for timeless elegance, and lace/sheer tops for delicate romance.
2. Q: Indian party wear tops are good?
2. A: Yes, Indian party wear tops offer a wide variety of intricate designs, vibrant colors, and rich fabrics that are well-suited for various occasions.
3. Q: When to wear Party wear fancy tops in day or night?
3. A: Party wear fancy tops are versatile and can be worn both during the day and at night. Choose lighter fabrics and colors for daytime events, and opt for richer textures and shades for nighttime parties.
4. Q: Latest party wear tops for women names are?
4. A: Some of the latest party wear tops include
i. Sequin-adorned stunners,
ii. Off-shoulder elegance,
iii. One-shoulder contemporary styles,
iv. Lace and sheer designs,
v. Peplum tops, and
vi. Wrap-style options.
5. Q: Describe the name of Party wear tops on jeans?
5. A: Party wear tops that pair well with jeans mentioned below as they effortlessly combine chic with casual
i. Off-shoulder tops,
ii. One-shoulder styles, and
iii. Even wrap tops
6. Q: Fancy tops for women should be in which color?
6. A: Fancy tops for women can be in a range of colors depending on personal preferences and the occasion. Rich jewel tones, metallics, and classic black are often popular choices.
7. Q: Gorgeous Party wear jeans top for ladies are?
7. A: Gorgeous party wear jeans tops for ladies encompass a wide range of styles, such as off-shoulder elegance, lace and sheer designs, and wrap-style tops, all of which can beautifully complement jeans for a fashionable look.